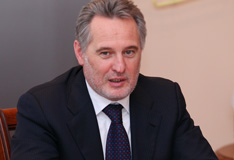 25 May 2012 Federation of Employers of Ukraine
Promotion Of Machine Building To Power Economic Prosperity
Speaking at a meeting with Sumy regional administration and business community, Mr. Dmitry Firtash, President of the Federation of Employers of Ukraine argued that Ukraine has to stimulate domestic demand for national machine building output. He also vows that each new enterprise built in Ukraine must employ at least 50 % of Ukraine-originating technological and research developments.
Mr. Firtash told that in most advanced countries, about 70 % of technological developments meet with in-country distribution. This is a matter of the nation's economic security. One can't just go out and buy advanced technologies while it is basically finished products that are exported.
"Machine building is a technological foundation of the economy. As long as this sector remains underdeveloped, attaining good standards of manufacturing high-tech products will not be possible. The country possessing own technologies impacts a lot of global processes and can suggest its own game rules rather than follow somebody else's," noted Mr. Firtash.
According to his statistics, a share of machine building in the overall national output is as low as just 11 percent. "The situation however may be altered: according to estimates of machine building enterprises being members of the Federation of Employers, this share may be raised up to 40 percent of the GDP," maintains Dmitry Firtash.
At this time, the Federation has been working on drafting Ukraine's Industrial Development Program which will outline priority sectors of the national economy for several years down the road. Machine building refers to such priorities, and Dmitry Firtash believes that ensuring the long-term demand for the industry's products is one the most essential factors that will power the sector's development. "Machine building enterprises have to be clear on the national economy's priorities. It is not until then that they can reorient their production and offer adequate technologies and solutions to investors," summarized Mr. Firtash.