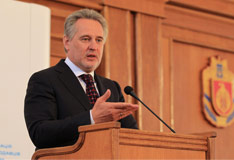 25 April 2013 Promotion of Enterprises
Lean Manufacturing System Will Give Ukraine $40 billion
Ukrainian enterprises can reduce production costs by $40 billion, if lean manufacturing system is implemented. This was stated by President of the Federation of Employers of Ukraine Dmitry Firtash in the Kirovograd enterprise "Red Star" during the meeting on the agricultural machinery development.
"Today, the system of lean production ­­is a new revolution in the industry. Production becomes flexible, allows adapting to market demand. As a result, this system will improve quality and save up to 30% of production costs", – said Dmitry Firtash.
This technology was implemented in the Kirovograd enterprise "Red Star", said the owner of the company Pavel Shtutman.
According to FEU President, in most enterprises production processes have been implemented since the Soviet Union and focused on mass production. "If Ukrainian companies rebuild their production, they will be able to save up to $40 billion a year. This vast resources can be reinvested in the economy", – said Dmitry Firtash.
Lean production system developed in Japan can significantly reduce costs by rejects, loss of time and resources waste minimizing.
The meeting on the development of agricultural machinery was attended by Minister of Industrial Policy of Ukraine Mikhail Korolenko, Head of Kirovohrad Regional State Administration Andrey Nikolaenko, directors and owners of 20 agricultural machinery enterprises.