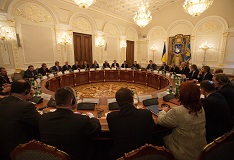 05 November 2013 Investors Advisory Council under the President of Ukraine
Group DF Investments Strengthen Economy of Ukraine
The session of Domestic and Foreign Investors Advisory Council under the President of Ukraine took place in Kyiv. The plenary session on the topic "Investments in the Development of Economy and Social Sphere in Conditions of FTA with the EU" was attended by over 20 businessmen, including the Chairman of the Group DF Supervisory Council Dmitry Firtash.
As the President noted, with low dynamics of the global economy and increased competition for investment resources Ukraine manages to maintain encouraging trends in the investment field.
"Since our last meeting, the volume of direct foreign investment in Ukraine has increased by almost 3 billion USD. Of course significant role in this was played by you, dear participants of the meeting, and by the companies that you lead or represent", said the President of Ukraine Viktor Yanukovych.
The President also noted the special role of the individual companies promoting the modernization of the real sector of the economy and supporting the financial stability of our state.
"Introduction of powerful investment projects with participation of national and foreign enterprises strengthens Ukrainian economy. Specifically, this is the program on modernization of national chemical enterprises by Group DF amounting to 2.5 billion USD", said Viktor Yanukovych.
Also, the Head of State stressed the importance of the launch of Botievska wind power station of the wind farm "Pryazovskyi" by the company "DTEK" (1.2 billion USD), and the launch of newly-built metallurgic plant "Dniprostal" by "EastOne" group (700 million USD).