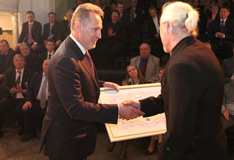 27 March 2012 Charity. Employers Movement
Government Must Turn Its face to Ukrainian Theaters, Says Dmitry Firtash
The systemic support that Mr. Dmitry Firtash has been providing to Ukrainian theaters as part of his multi-facet charity activity has won him a reputation of one of the nation's leading benefactors. While making his working visit to Lviv where Mr. Firtash was rated as the most influential public activist according to the last year's "Hero of the Year" poll, the FEU President paid a lot of attention to the theaters development, especially in light of the fact that his visit took place on March 27 when the International Theaters Day is being celebrated.
Notably, Mr. Firtash's efforts are not only confined to charity endowments. Speaking to a gathering of entrepreneurs of Lviv region he articulated a series of initiatives the implementation of which would afford the Ukrainian theaters a number of important financial benefits on the state level. Among other things, the Ukrainian employers' leader urges the government to consider a possibility of lifting the value added tax for theaters.
A propos
, this kind of an approach is being practiced in most of the CIS countries including Russia, Kazakhstan and Belarus quite successfully for a long time now.
"It is my position as the Employers' Federation President that theaters must be exempted from the VAT. Theaters enrich citizens spiritually, educate them and build the nation," said Mr. Firtash. According to him, last year, the national budget received 39 million UAH worth of VAT deductions from theaters' operation. "This equals just 0.02 percent of the total of VAT receipts. For the government this is a petty cash while for theaters it means a very substantial amount for financing their development," vowed Mr. Firtash.
Like during his previous field trips, Dmitry Firtash once again called upon entrepreneurs urging not to remain indifferent to the needs of national culture centers and to assume responsibility for the promotion of important public institutions like universities, theaters, culture clubs, etc. As a matter of personal example of care for the strengthening of the spiritual and cultural potential of the nation, Mr. Firtash attending the performance of Lviv Academic Les Kurbas Theater handed a check for the amount of 500 thousand UAH worth of a charity donation to the Theater's director. This goodwill gesture became a response to the plea of the Theater having to survive in literal misery. "Today, on March 27, 2012, as the world celebrates the International Theaters Day, we want not to simply once again draw the attention of the government and the public to problems and condition of the theaters and culture at large. We also want to give a start to the process of addressing these problems. This however is only possible conditional of concerted and coordinated actions of all who care for the development of the Ukrainian theater and culture," says the address the Theater has promulgated on occasion of the International Theaters Day.