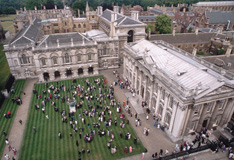 7/10/2011 Charity. Education. Cambridge-Ukraine Studentships
First Cambridge-Ukraine Studentships winners begin their studies at the University of Cambridge
First five Ukrainian students, selected as winners of the Cambridge-Ukraine Studentships programme for the 2011-12 academic year, begin their studies at the University of Cambridge.
Cambridge-Ukraine Studentships, established in 2010 with the financial support from Dmitry Firtash, a prominent Ukrainian businessman, is aimed at providing the possibility of free education at the University of Cambridge to the most talented young people from Ukraine who otherwise cannot afford to obtain such education.
In the 2011-12 academic year, the winners of this programme will study on one-year postgraduate courses at the University of Cambridge in such specializations as Conservation Leadership, Modern Society & Global Transformation, Law, European Literature and Russian Studies.
"We are very happy with the high level of academic qualifications displayed by the five Ukrainian winners", explained Dr. Emma Widdis, Head of the Department of Slavonic Studies at the University of Cambridge, who was in charge of selecting the Cambridge-Ukraine Studentships winners. "I'm sure that by studying at our University these young men and women will be able to fully exploit their potential, achieve their aims and bring benefits to society", added Dr. Widdis.
Inna Birchenko, one of the Cambridge-Ukraine Studentships winners who will study the Conservation Leadership course, explained her professional aims. "I have always had a deep interest in rare plants, and therefore dedicated my research and practical work to the study, preservation and restoration of vulnerable plant populations. To be a successful conservation professional I need practical skills in project development and management, fundraising and collaboration with international organizations. Practical work offered by my postgraduate course at the University of Cambridge will give me just that. Therefore I'm thankful to Mr. Firtash for his financial support that will enable me to obtain knowledge necessary to achieve my aims", said Ms. Birchenko.
"Young people in Ukraine display no less scientific potential than their peers in any other country of the world. But the problem is that young Ukrainians don't always have the same access to the highest quality education at the best universities of the world", explained Mr. Firtash. "Today we refer these bright representatives of Ukraine's young intellectual elite to one of the world's most prominent scientific centres. I'm convinced that tomorrow these young people will rise to leading positions in their professional fields and contribute to enhancing Ukraine's image worldwide", added Mr. Firtash.
Applications to the Cambridge-Ukraine Studentships for the 2012-13 academic year are accepted until 2 December 2011. Like this year, the studentships will be granted to Ukrainian students studying on one-year postgraduate courses at the University of Cambridge, with nearly 50 available courses of study in arts, humanities and social sciences. The studentships will cover University and College fees, as well as Maintenance, depending on the students' needs. In 2010 and 2011, the University of Cambridge was recognized as the best university in the world according to the
QS World University Rankings
.
For more information on the Cambridge-Ukraine Studentships please visit the following page:
Cambridge Trusts