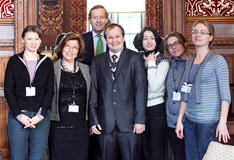 16 August 2012 Charity. Education. Cambridge-Ukraine Studentship
First Cambridge-Ukraine Studentship Fellows Complete Studies At University of Cambridge
The first five fellows winning the Cambridge-Ukraine Studentships founded by Mr. Dmitry Firtash have successfully completed their learning course at the University of Cambridge receiving a master's degree in such disciplines as environmental protection, modern society and global transformations, law, European literature and philology.
"Before I was admitted I had to qualify in academic performance and language proficiency. As I received a notice from Cambridge I thought it was a miracle. The miracle that awarded me with the most amazing year of my personal development," commented Kateryna Busol, one of Cambridge mastership graduates.
Admission of applications seeking 2013-2014 Cambridge studentships will open on 3 September to last until 4 December 2012. The winning candidates will be notified during the period from May through July 2013.
Pavlo Shopin, holding a bachelor's and master's degree and completing a post-graduate course majoring in general linguistics in Ukraine, is impressed with the British education: "The key distinction is very demanding requirements to students' individual work. In my case, the assessment was based on my essays and my dissertation," says he. "I am going to apply to a doctorate in the US or UK and upon its completion I will be happy to return to Ukraine," added Pavlo.
Kateryna Busol also commented on differences between learning at one of Ukraine's best universities and at Cambridge: "In Cambridge, you are presumed to be well-read and to realize the importance of learning the material in a greater depth. What a student is expected to demonstrate though is a critical analysis of interrelations between a variety of processes. And it is precisely the level and quality of such criticism that makes Cambridge unique, this is the principal distinction," argued Kateryna.
To date, the total of 88 applications seeking the Cambridge education grant have been filed of which 5 best candidates will be selected to learn a year-long mastership course at the University majoring in one of the following sciences: modern history of Europe, comprehensive gender research, economic research, developmental research."
Pavlo Shopin suggests that Ukrainian studentship fellows find a reasonable balance between education and fun: "Take this opportunity seriously. Your attitude will determine how successful your experience will be. Meet professors and your fellow students and maintain contacts with them. Do not hesitate to call your tutor for help. Should you have any questions, please contact us," urges Pavlo. Kateryna Busol added that studying at Cambridge should be viewed as a ticket to being a successful person not only in Ukraine but elsewhere too. "You have to be equally prepared to opportunities and to challenges. Get tuned to a hard work. However, given that you chose a profession to your liking, enjoy this hard work. Also, don't neglect the social fun offered by Cambridge: theaters, exhibitions, all sorts of groups and clubs," recommends Kateryna.
NOTE
Cambridge University was founded in 1209 to become the fourth university in the world. Its alumnae list proudly boasts such outstanding scientists as Isaac Newton and Charles Darwin. 87 Nobel Prize winners graduated from Cambridge University. For three sequential years now (2010-2012), Cambridge has been voted the world's best university, according to QS World University Rankings.
The Cambridge-Ukraine Studentships program founded in 2010 on initiative of and with support from Dmitry Firtash has been funding Ukrainian students' education at a one-year-long mastership course at Cambridge covering the cost of tuition and accommodation at the University.
The financial support includes the cost of tuition at the University, accommodation at a college – autonomous establishments within the University providing board and social life to students, as well as cash sustenance handed to students. In addition to that, the cost of two-way airfare and the UK visa is also covered.
For more details about the Cambridge-Ukraine studentships please visit
Cambridge Trusts