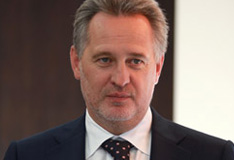 20 December 2011 Charity
Dmitry Firtash Voted Public Activist Of The Year In Lviv Region
Mr. Dmitry Firtash who has been providing systemic support to the Ukrainian Catholic University has been voted the most celebrated public activist of 2011 in Lviv region. Two thirds of the web-respondents participating in compiling a "Hero Of The Year" rating chose Mr. Firtash in this poll.
The entrepreneur commented on his support to the University which, according to Mr. Firtash, is quite capable of becoming the center of modern European education in Ukraine: "This university features a unique approach to teaching based on the world's most advanced educational standards. But students receive only knowledge they need to master a vocation. The UCU teaches its students Ukrainian traditions and instills universal humanitarian values which is so important in our modern materialistic world", said he.
"I have full confidence in this University's success because I see that both the rector and teachers live with an idea of evolving into an educational institutions meeting the highest European standards. The UCU is actively building up, expanding its educational and academic base and is on the right track towards becoming a center of European education in Ukraine", he added.