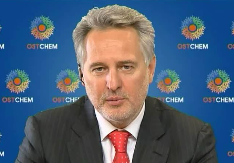 07 May 2014 Chemical industry
Dmitry Firtash To Invest USD 2.5 Billion in Petrochemiсal Production
The Chairman of the Group DF Supervisory Council Dmitry Firtash plans to invest $2.5-3 billion in petrochemical program during the next five years. This was stated by Dmitry Firtash during the teleconference with employees of Concern Stirol, Cherkassy Azot, Severodonetsk Azot, and Rivne Azot.

"We already have an investment program for our enterprises. It has been totally elaborated, it is clear what reconstruction should be done at each plant and what they will produce", - said Dmitry Firtash answering the question of Concern Stirol employee. The businessman noted that petrochemical project launch would allow developing production of plastics and synthetic fabrics – raw materials for manufacturing of a wide range of products which Ukraine imports. The share of petrochemical products in the import structure equals 5%.

"If we execute the plan, then Ukraine will reduce imports by 3-3.5 billion dollars a year. In addition, we will create several hundred thousand new jobs in final production of goods from raw materials that we manufacture", said the businessman. He noted that the range of end-use products was very wide - from plastic utensils and building materials to the elements of tires and plastic furniture.