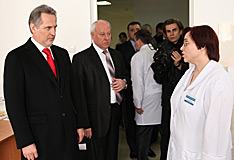 03 March 2012 Charity
Dmitry Firtash To Donate 9 Million UAH For Ukraine's First Free Pediatric Nervous System Treatment Center In Cherkassy
On 21 April 2011, an official opening of the Regional Pediatric Hospital attended by President V. Yanukovych took place in Cherkassy. Speaking at the ceremony, the President stressed that an institution of this capacity must offer therapy to children from all across Ukraine and that eventually it must become a national center treating children suffering from nervous system diseases, primarily from children's cerebral palsy.
It must be noted that at the moment, Ukraine does not have a single specialized care institution where little patients – who are almost 15 thousand across Ukraine – may have a free-of-charge access to qualified assistance and therapy reliant on state-of-the-art equipment. Notwithstanding a perfect condition of the building, the newly erected Cherkassy Regional Pediatric hospital with an in-patient capacity of 325 beds unfortunately does not have any technical inputs for effective treatment and therefore is unable to provide care to children even in a local scale.
This was the prime challenge that the hospital's executives highlighted to Dmitry Firtash during his visit to the institution. The Chief Medical Officer explained that the creation of a neonatal center, a neurological ward and children's rehabilitation center under an umbrella of an integrated institution will allow the launch of rehabilitation treatment and manipulations from the first days of children's lives and developing an individual rehabilitation plan for each patient for a long time ahead.
The region's natural capacity and a developed network of health care and rehabilitation institutions offers ample opportunities for patients form other locations of Ukraine and the only hindrance in this regard is the lack of funding needed to acquire high-tech equipment costing some 8.7 million UAH.
After his consultation with the hospital staff, Dmitry Firtash claimed that he will commit the necessary amount to purchase the equipment. This charity initiative became a personal example of responsibility before
the community
which he urges all entrepreneurs and employers to display. "We have to assume responsibility before the city or the town where we live. Somebody might buy a bus, someone could repair roads, somebody could finance a kindergarten construction. If we all donate however much each of us can, the situation will change, the state will change and the government will treat us in a different way," said Mr. Firtash while meeting with business community and leadership of Cherkassy region.