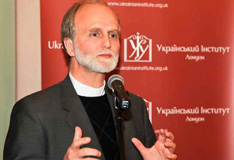 14 October 2011 Charity. Education. Ukrainian Catholic University. Cambridge Ukrainian Studentships Program
Dmitry Firtash Considered Perfect Philanthropist in Cambridge, Says Ukrainian Catholic University Rector
Interviewed by Radio Liberty, Borys Gudziak, Rector of the Ukrainian Catholic University said that the University of Cambridge considers Mr. Dmitry Firtash a perfect philanthropist.
Rev. Gudziak explained that Mr. Firtash never interferes with the operation of universities he sponsors while at the same time he is constantly interested in the programs he funds, attends festivities and other events on occasion of students' graduation. "He has had certain ideas about what he wanted to support. Ukrainian studies. The University [of Cambridge] articulated their vision, the endowment was granted and there has been no interference whatsoever," said the UCU Rector.
Borys Gudziak also stressed that the philanthropist donating to the Ukrainian Catholic University campus does not intervene in the University's operation either.
NOTE:
Charity at Cambridge
Dmitry Firtash has been financing the Ukrainian Studentships Program and Ukrainian Studies Program at the University of Cambridge. In March of 2011 Mr. Firtash became the first Ukrainian ever to be invited to join the Guild of Benefactors of Cambridge University whose membership includes philanthropists having made most substantial contributions into the University's research and socio-economic development.
Ukrainian Catholic University
The Ukrainian Catholic University is an accredited non-governmental institution of education and research open for all secular students irrespective of their religion. It is the only Catholic university across the whole ex-USSR.