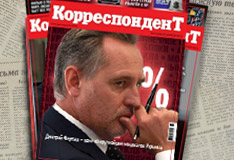 16 December 2011 Charity
Dmitry Firtash Among Leading Philanthropists Of Ukraine
The
Korrespondent
magazine has put together a rating of most generous philanthropists of Ukraine in which Mr. Dmitry Firtash is given one of the top-ranking positions.
According to the experts' assessments, in 2011 alone Mr. Firtash donated 44.8 million UAH for charity programs purposes.
Explaining his motivation, Dmitry Firtash commented to
Korrespondent
reporters: "I think that if you have a chance and ability to help others in need of this help, doing it is a must."
The magazine experts have noted Mr. Firtash's charity programs in the fields of culture and education. The rating compilation in particular took account for endowments donated for the Lviv-based Ukrainian Catholic University campus construction, as well as funding of the Cambridge Ukrainian studies and Cambridge Ukrainian studentship programs.
Also, the list of Mr. Firtash benefaction activities includes support to the second International Poetic Festival
Meridian Czernowitz
in Chernivtsi, assistance to Ukrainian theaters and financing of construction of the Holy Trinity Cathedral at the Holy Ascension Monastery in the village of Bancheny of Chernivtsi region.
The philanthropists rating compilers also factored in the assistance that has been provided by Mr. Firtash as part of his program of high school chemical learning development.