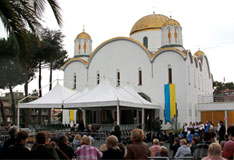 17 October 2012 Charity. UCU. St. Sophia Cathedral.
Divine services restart in restored St. Sophia Cathedral
The first services have taken place in the restored Ukrainian St. Sophia Cathedral in Rome on October 13 and 14 in the presence of 11 thousand Ukrainian worshippers arriving from over 20 countries of the world, including Australia, Argentina, Belgium, Brazil, the Czech Republic, Slovakia, Ukraine, Italy, Spain, Portugal, the US, Canada, the UK, Ireland, Turkey, Russia, Kazakhstan, Belarus and other nations.
The St. Sophia Cathedral is part of the Rome-based Ukrainian Catholic University complex. Its construction was launched in 1967 and lasted for two years. The temple erection was initiated by Josyf Slipyi, the then-leader of Ukrainian Greek Catholic Church, and was financed with donations from Ukrainians living in different countries of the world.
"The St. Sophia Cathedral is a representative center of Ukraine and Ukrainian spirituality. The temple has a tremendous importance for both Ukrainians – as a transmitter of Christian culture, and for the entire world – as a transmitter of Ukrainian spirituality," stressed Fr. Borys Gudziak, the UCU Rector. "The Cathedral was erected with funds donated by thousands of people from across the globe. The major philanthropist in this endeavor is a Ukrainian entrepreneur Mr. Dmitry Firtash," the UCU Rector pointed out.
According to Mr. Firtash, the St. Sophia Cathedral has, for decades, been a mission for Ukrainian expatriates unification. "It's been almost half a century since the time when Metropolitan Josyf Slipyi announced his intention to found the St. Sophia Cathedral and the Ukrainian Catholic University in Rome. He forestalled the time setting up a far-away spiritual center that has been uniting thousands of Ukrainians to make sure that their faith, cultural identity and ties with the Motherland are never lost. The importance of such unity is particularly acute in the modern challenging era of globalization and cultures mergers. It is not only Ukraine but also the whole world that needs the enhancement of such cultural centers," goes Mr. Firtash's address to worshippers.
The Cathedral restoration works lasting for thirteen months included the renovation of the temple's dome, the unique mosaics, the crypt vaulted underneath the temple.
Borys Gudziak remarked that the Ukrainian spiritual center will continue to develop in Rome. This effort will include the construction of an exhibition center, conference halls, pilgrims hospitality center. Mr. Firtash, Head of the Board of Directors of Group DF confirmed his commitment to continuing the support of the spiritual center development.