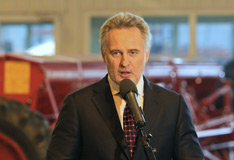 27 April 2013 Promotion of Enterprise
Ukraine Has To Improve Quality Requirements For Domestic Products
Ukraine needs to improve the quality requirements for goods imported and produced in the country. This was stated by President of the Federation of Employers of Ukraine Dmitry Firtash in Kirovograd during the meeting with managers and owners of more than 100 companies and the leadership of the Kirovograd region.
"Ukraine should strengthen supervision over product quality, first of all, over food. We need to understand what products are sold, how they affect people's health. This applies to products both imported to and manufactured in Ukraine", – said Dmitry Firtash.
The FEU President noted that the system of control over the quality of imported products almost did not functioning. Ukraine recognizes quality certificates issued in other countries and does not check imported goods.
To develop quality requirements the Federation of Employers of Ukraine established the Committee for technical regulations composed of representatives of sectoral employers' organizations and the government.
"The task of the committee is to set up a system of quality and safety technical regulations for products imported and sold in Ukraine. This system will not only protect our consumers from low-quality imports, but also will raise the bar for domestic producers", – stressed Dmitry Firtash.
According to the FEU President, if Ukrainian producers increase the quality of their products, they will become more competitive and will be able to strengthen their position on the domestic and foreign markets.